Again, here we recommend you 10 amazing painted Tygris designs with Exalter decals & CNTCT-1: Infinite wheels. If you are stuck in building up an eyes-catching battle car, these best Rocket League Car Designs will surely give you creative inspirations! Now follow us to check out.
Rocket League Tygris Designs
Tygris's body and side profile appear to be loosely based on the Nissan GT-R, However, its front end heavily resembles the Mitsubishi Concept XR-PHEV EVOLUTION Vision Gran Turismo. It can be obtained from the Season 2 Series Blueprint or trade with other players with Rocket League credits! Tygris in Rocket League comes with painted variants. It can be equipped with Flames, Full Speed, Lighting, Stripes. Silencer, Platformer, Mister Rad, and any of the universal decals. Here we put on the cool Exalter decal and CNTCT-1: Infinite wheels on painted Tygris, they look amazing!
How To Get Tygris & RL Items For Free?
If you do like the below designs, comes to join the Weekly Giveaway for VIP Member on the Reliable Rocket League Items Shop – RocketPrices.Com
Join the Rocket League Giveaways to win free RL items every day, the below items are available now:
Rocket League Top 10 Tygris Car Designs With Exalter & CNTCT-1: Infinite
Now follow us to check out the 10 best Tygris designs with Exalter decal and CNTCT-1: Infinite wheels:
Tygris Design 1
Car: Lime Tygris
Decal: Lime Exalter
Wheels: Lime CNTCT-1: Infinite
(Primary-C1-R4, Accent-C5-R4)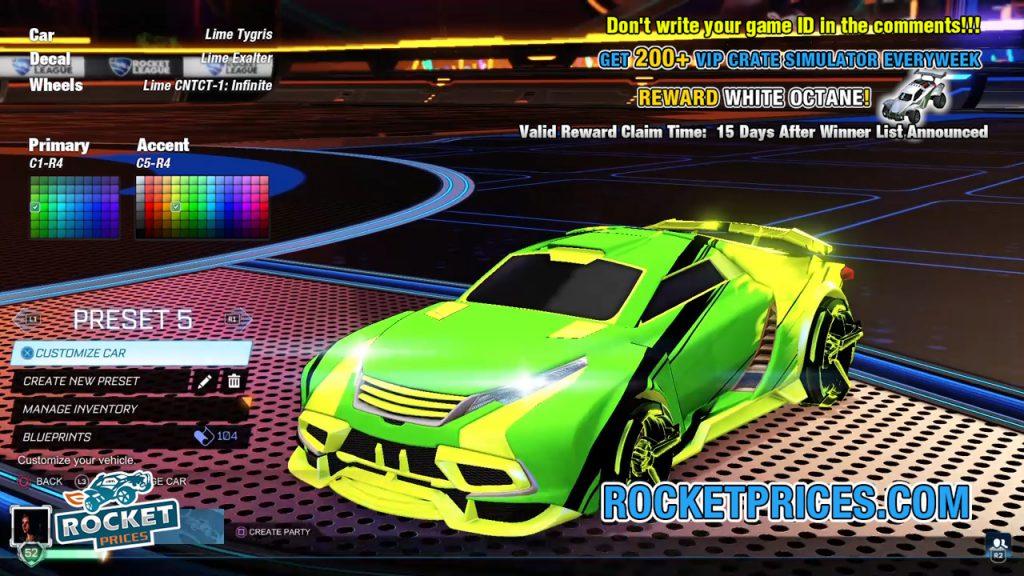 Tygris Design 2
Car: Cobalt Tygris
Decal: Cobalt Exalter
Wheels: Cobalt CNTCT-1: Infinite
(Primary-C8-R4, Accent-C9-R4)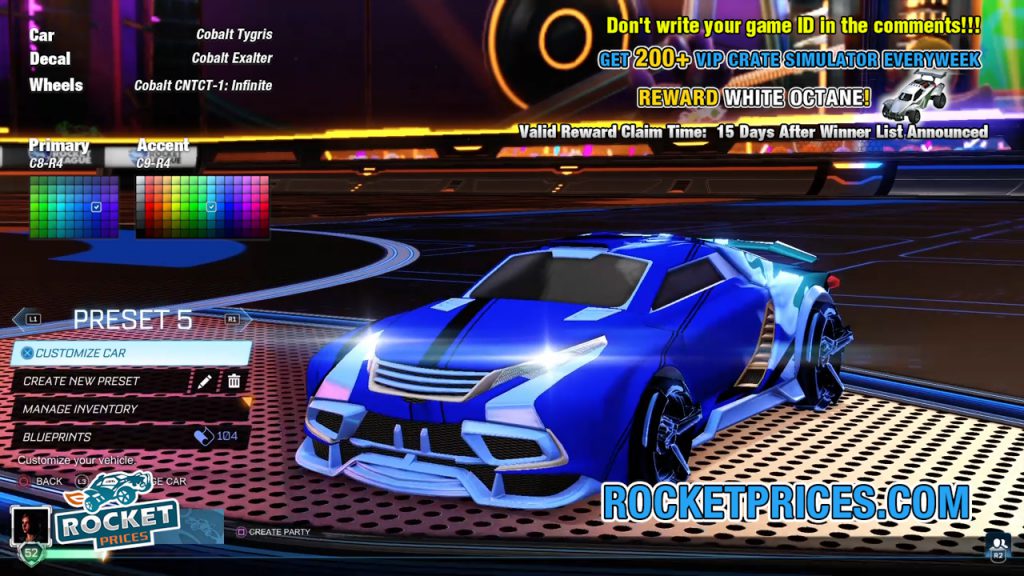 Tygris Design 3
Car: Pink Tygris
Decal: Pink Exalter
Wheels: Pink CNTCT-1: Infinite
(Primary-C10-R4, Accent-C14-R1)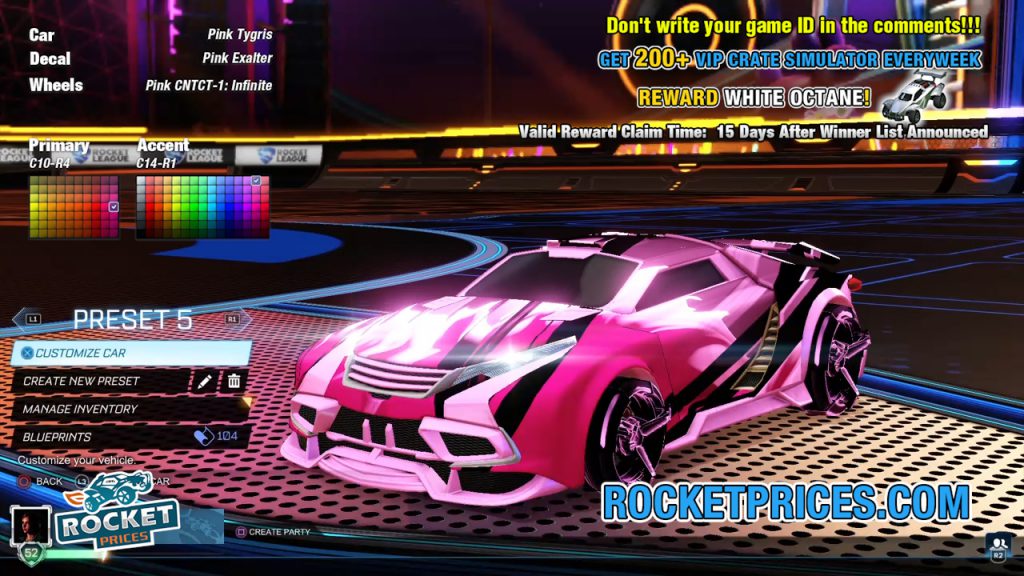 Tygris Design 4
Car: Burnt Sienna Tygris
Decal: Burnt Sienna Exalter
Wheels: Burnt Sienna CNTCT-1: Infinite
(Primary-C7-R1, Accent-C4-R4)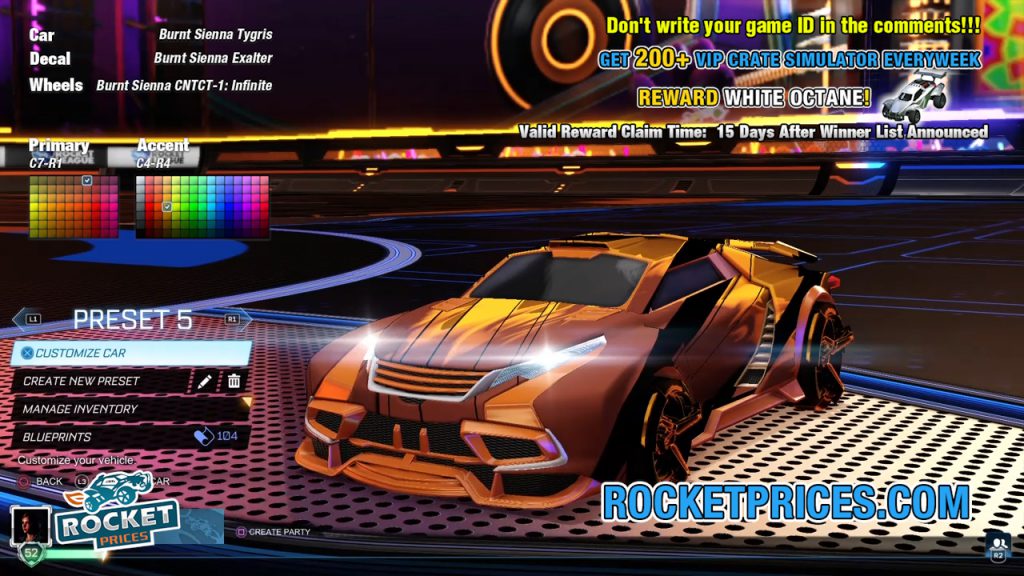 Tygris Design 5
Car: Purple Tygris
Decal: Purple Exalter
Wheels: Purple CNTCT-1: Infinite
(Primary-C10-R2, Accent-C13-R4)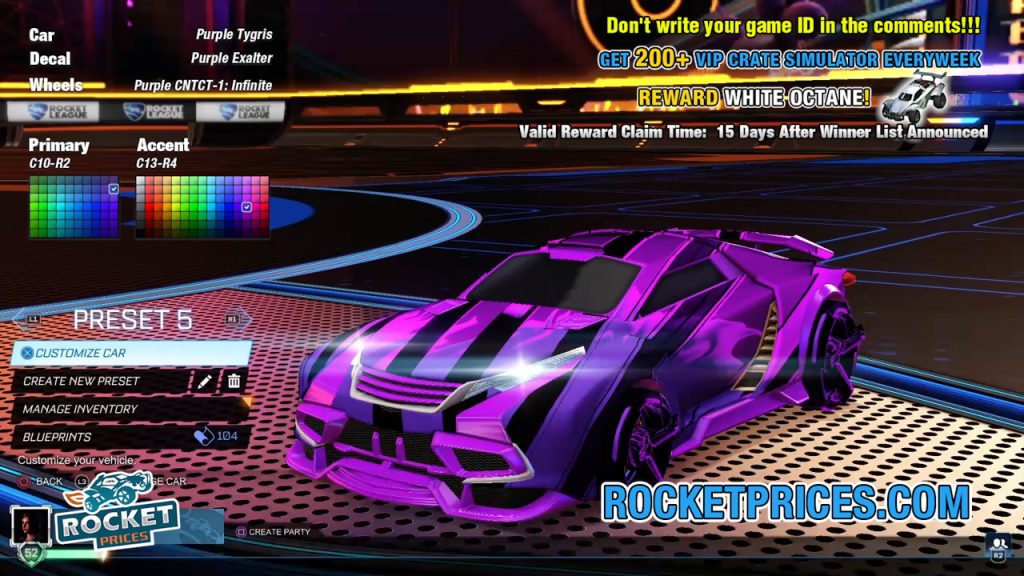 Tygris Design 6
Car: Forest Green Tygris
Decal: Forest Green Exalter
Wheels: Forest Green CNTCT-1: Infinite
(Primary-C2-R7, Accent-C6-R4)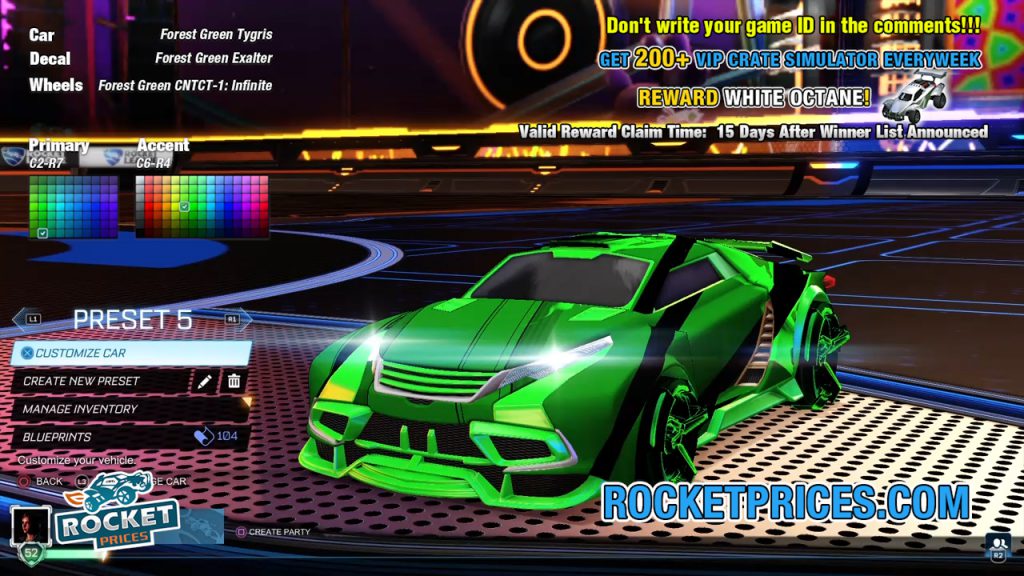 Tygris Design 7
Car: Sky Blue Tygris
Decal: Sky Blue Exalter
Wheels: CNTCT-1: Infinite
(Primary-C4-R4, Accent-C3-R4)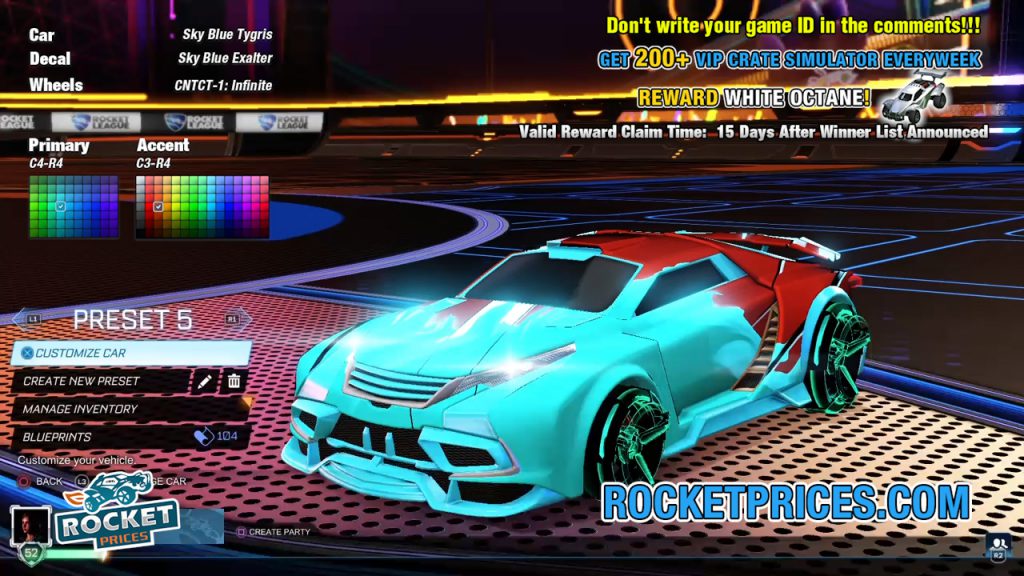 Tygris Design 8
Car: Grey Tygris
Decal: Grey Exalter
Wheels: Grey CNTCT-1: Infinite
(Primary-C3-R1, Accent-C1-R3)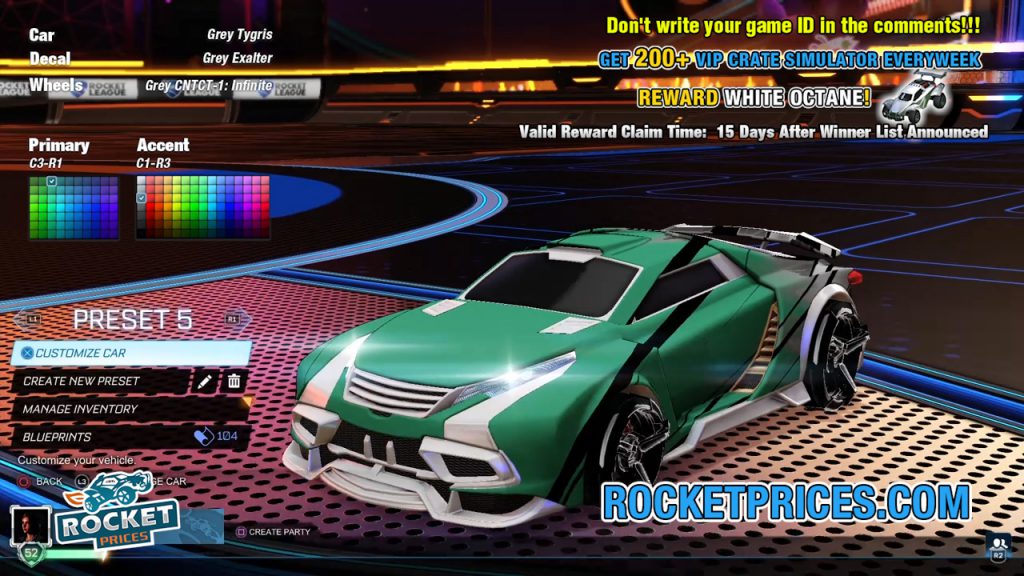 Tygris Design 9
Car: Crimson Tygris
Decal: Crimson Exalter
Wheels: Crimson CNTCT-1: Infinite
(Primary-C8-R4, Accent-C5-R4)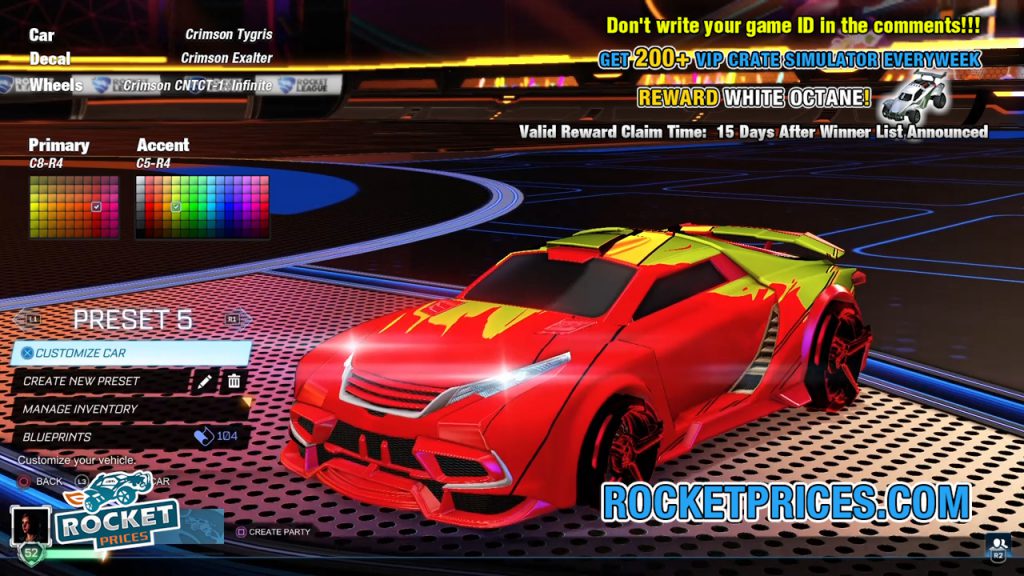 Tygris Design 10
Car: Titanium White Tygris
Decal: Titanium White Exalter
Wheels: Titanium White CNTCT-1: Infinite
(Primary-C2-R3, Accent-C1-R1)