Welcome back to our column of Best Rocket League Car Designs, today we will go over top 10 amazing painted Dominus car designs with Trigon decals and Tanker: Infinite wheels, you will surely be impressed by them. Again, we will talk about some details about the car and present the ways to get the designs for free. Go to check out now!
Top 10 Dominus Car Designs with Trigon Decals & Tanker: Infinite Wheels
Dominus is one of the most popular premium battle-car in the game since it first released the Supersonic Fury DLC Pack, it comes with an amazing Inclination hitbox and is great looking. a Dominus is a pretty useful vehicle for fast-saves in Rocket League by combing its height, inclination, and handling. Dominus Hitbox is considered to be an upgraded version of Tyranno and has handling similar to Octane. The Painted variants of Dominus is available in two rarities: Import (full painted set) and Exotic (Titanium White, Sky Blue, Purple, Lime, Forest Green, Orange, and Crimson).
How To Get Dominus Car in Rocket League?
For every player, common Dominus can be unlocked for free and now remains in every account's inventory after the updates of the blueprints.
Painted variants of Exotic Dominus can only be purchased with Rocket League credits through the Item Shop, and they are untradable.
Painted variants of Import Dominus bodies can be obtained by trades and drops
You also can get the Painted Import Domnus by joining some free Rocket League items giveaways – If you do like the below designs, come to join the Weekly Giveaway for VIP Member on the Reliable Rocket League Items Shop – Rocketprices.Com
There is no doubt that Dominus is a battle car you deserve in Rocket League. It not only helps you enjoy the game but also allows you to have an ideal vehicle design. If you still don't believe it, please check these designs with us.
Design 1
Car: Forest Green Dominus
Decal: Trigon
Wheels: Forest Green Tanker: Infinite
Primary: C2-R7
Accent: C6-R2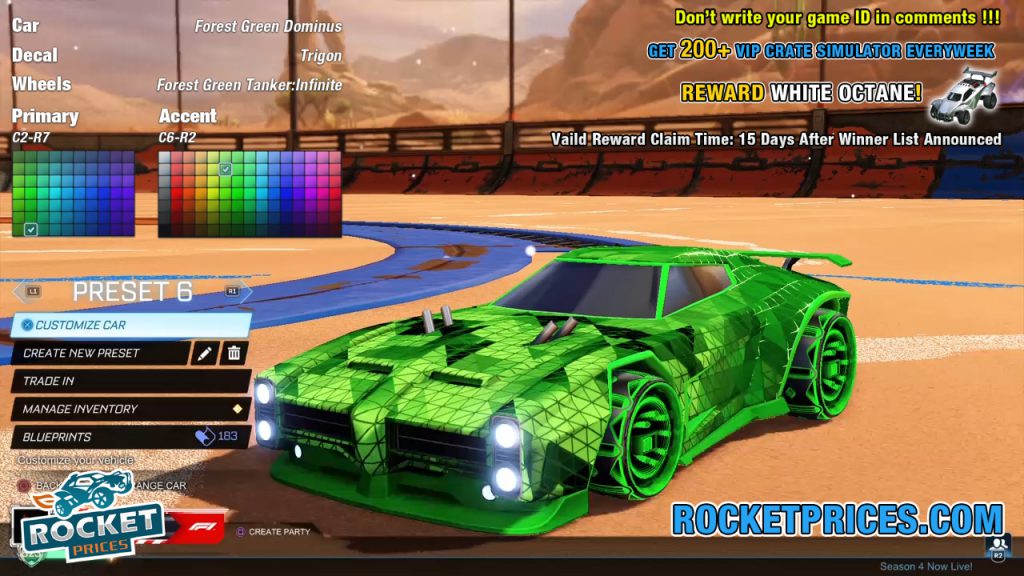 Design 2
Car: Dominus
Decal: Titanium White Trigon
Wheels: Black Tanker: Infinite
Primary: C4-R1
Accent: C1-R1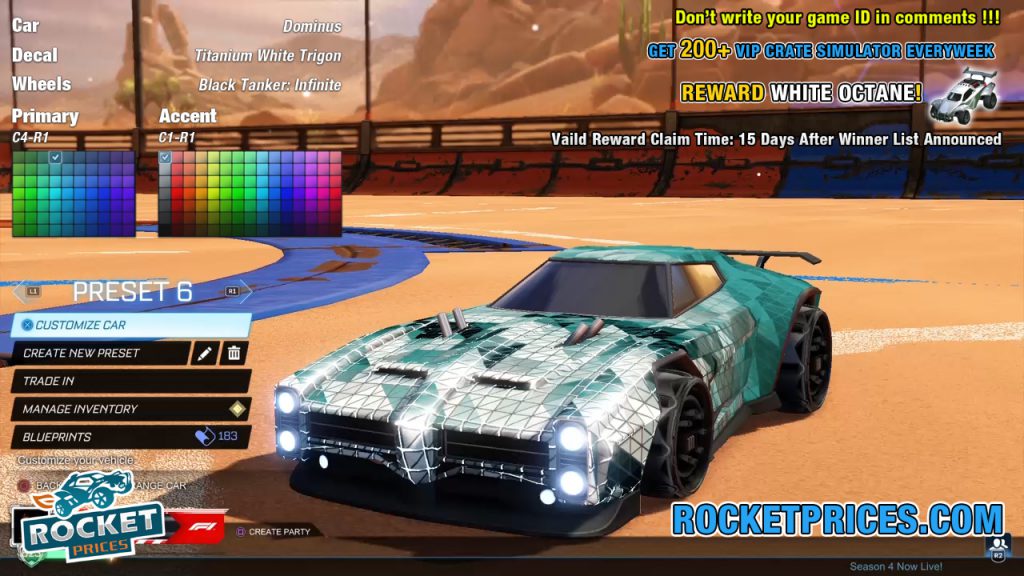 Design 3
Car: Grey Dominus
Decal: Trigon
Wheels: Grey Tanker: Infinite
Primary: C3-R1
Accent: C1-R4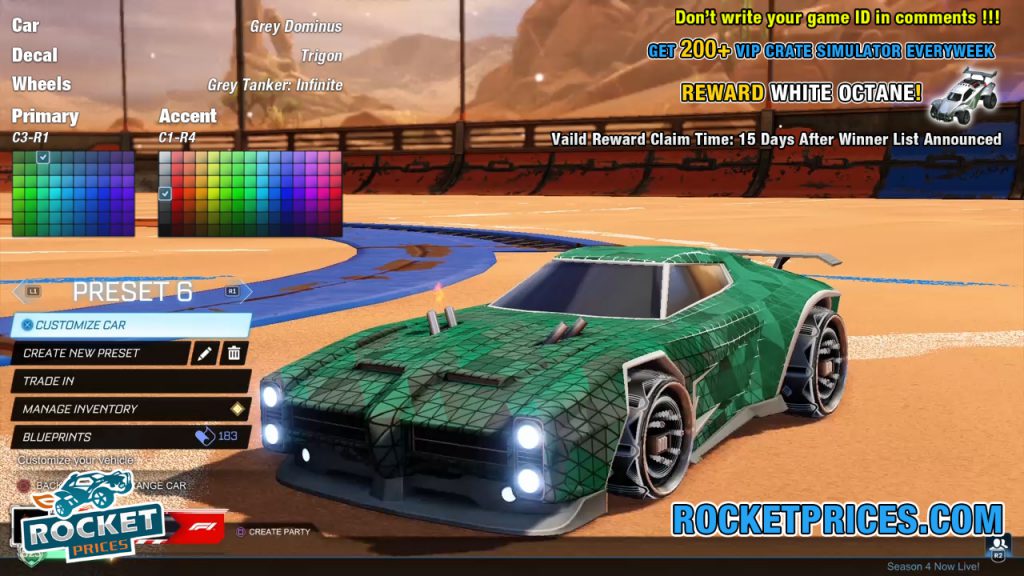 Design 4
Car: Saffron Dominus
Decal: Saffron Trigon
Wheels: Saffron Tanker: Infinite
Primary: C2-R4
Accent: C5-R6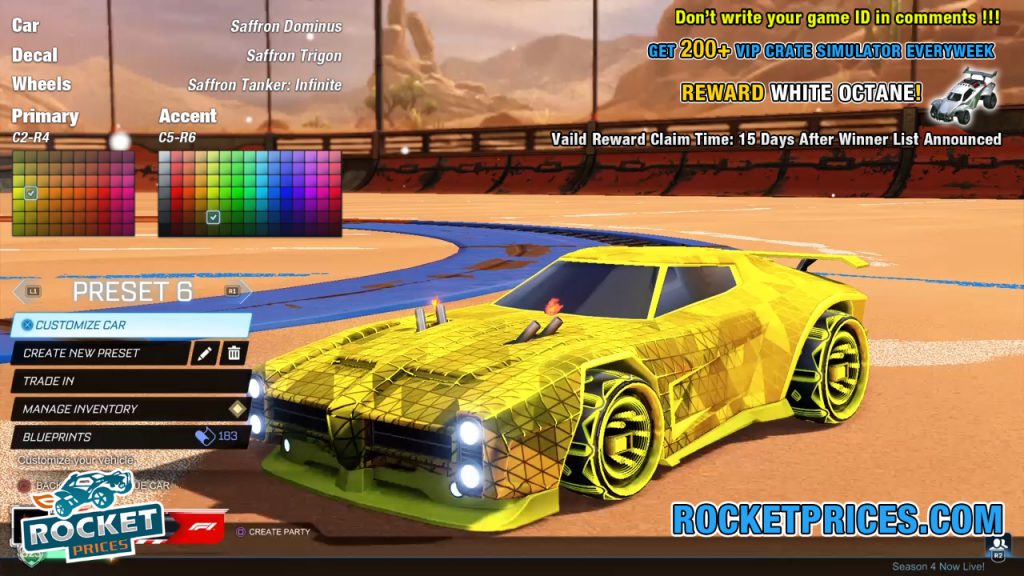 Design 5
Car: Cobalt Dominus
Decal: Cobalt Trigon
Wheels: Cobalt Tanker: Infinite
Primary: C8-R5
Accent: C5-R4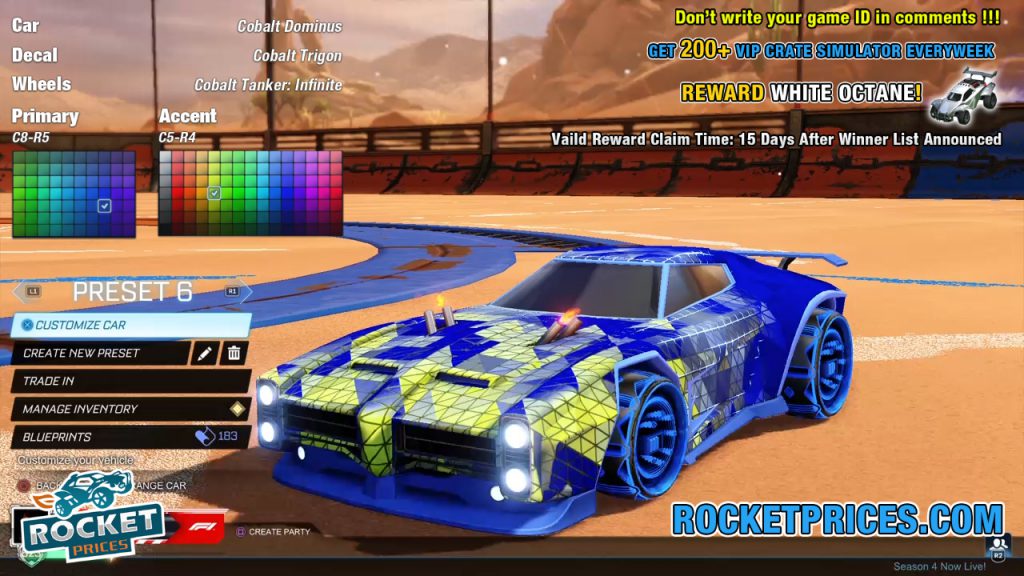 Design 6
Car: Pink Dominus
Decal: Pink Trigon
Wheels: Pink Tanker: Infinite
Primary: C10-R4
Accent: C7-R4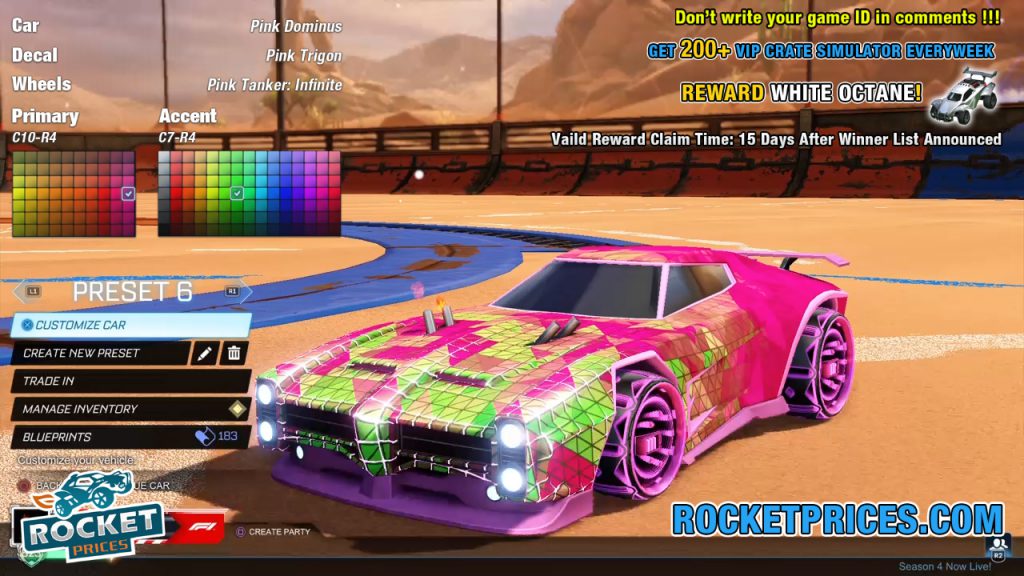 Design 7
Car: Lime Dominus
Decal: Lime Trigon
Wheels: Lime Tanker: Infinite
Primary: C1-R4
Accent: C5-R6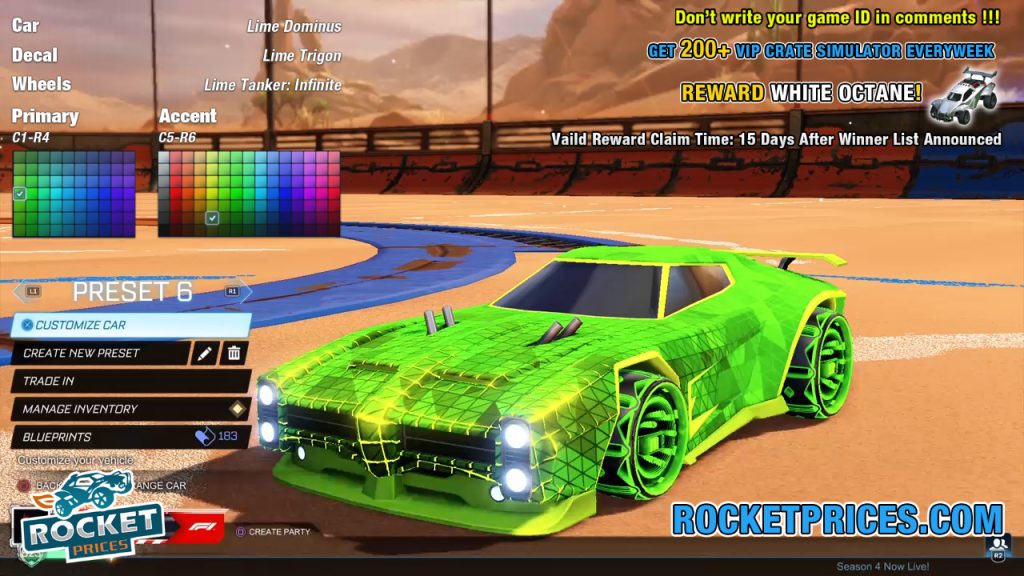 Design 8
Car: Sky Blue Dominus
Decal: Sky Blue Trigon
Wheels: Black Tanker: Infinite
Primary: C4-R4
Accent: C9-R7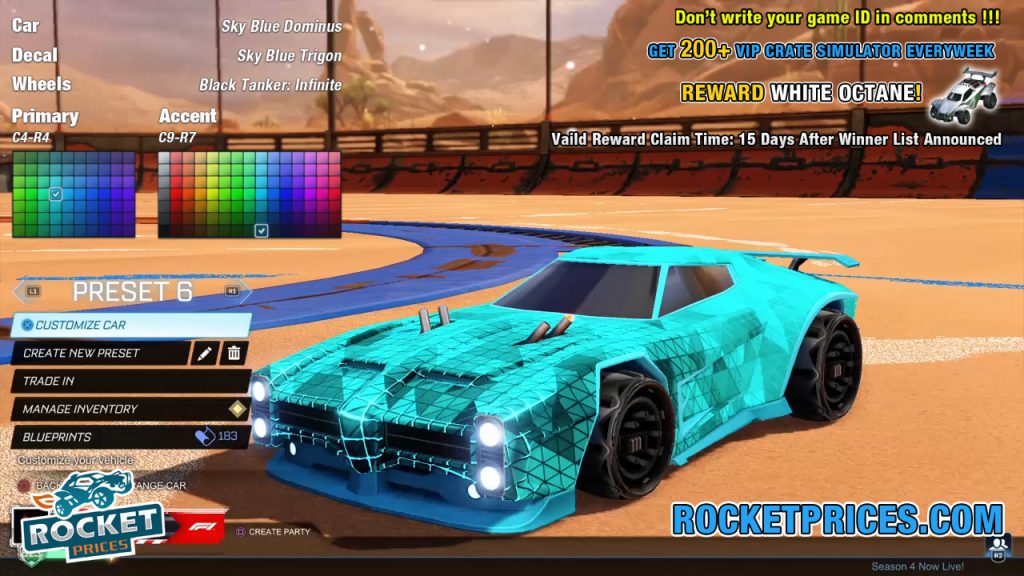 Design 9
Car: Crimson Dominus
Decal: Crimson Trigon
Wheels: Crimson Tanker: Infinite
Primary: C8-R3
Accent: C2-R7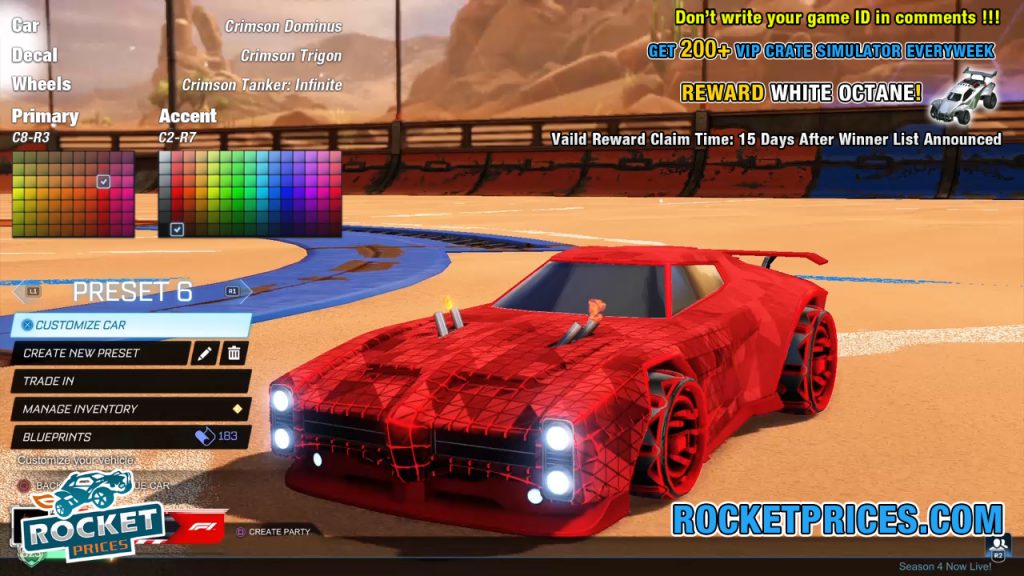 Design 10
Car: Purple Dominus
Decal: Purple Trigon
Wheels: Purple Tanker: Infinite
Primary: C10-R4
Accent: C9-R4