Welcome back to our column of Rocket League Car Design, in this post, the Top 10 Outlaw GXT Design Ideas will be presents. If you are still hesitating whether you should spend time and money to get this brand new battle-car, then you should take a look at these unparalleled designs.
Top 10 Rocket League Outlaw GXT Designs with Vaticinator Decals & Gadabout: Inverted Wheels
How far have you stepped into the Rocket League Season 4 Rocket Pass? Anyway, there are some amazing items worth you spending time and money, such as the Outlaw GXT, Vaticinator, and Gadabout: Inverted. Outlaw GXT as the premium reward of the latest Rocket Pass in Rocket League, comes with painted variants that can be obtained randomly after Tier 70 of the Rocket Pass. The Outlaw GXT looks like the upgraded version of Octane, and share the same hitbox.
To obtain the painted Outlaw GXT, you would spend vary of time or credits to get your favorite Dingo variation, so we do suggest you can trade with other friends or buy Rocket League items/credits from RocketPrices.Com, what's more, this reliable online RL trading store offers the below free methods for you to get painted Outlaw GXT cars and car designs without spending any single penny:
If you do like the below designs, comes to join the Weekly Giveaway for VIP Member on the Reliable Rocket League Items Shop – RocketPrices.Com
Join the Rocket League Giveaways to win free RL items every day, the below items are available now:
Now you have the Outlaw GXT car and have no good idea to build it in unique way, follow us to check out the beautiful and fabulous Outlaw GXT car designs to get some great ideas for creating your own distinctive battle car!
1 – Burnt Sienna Outlaw GXT Design
Car: Burnt Sienna Outlaw GXT
Decal: Burnt Sienna Vaticinator
Wheels: Burnt Sienna Gadabout: Inverted
Primary: C7-R3
Accent: C4-R5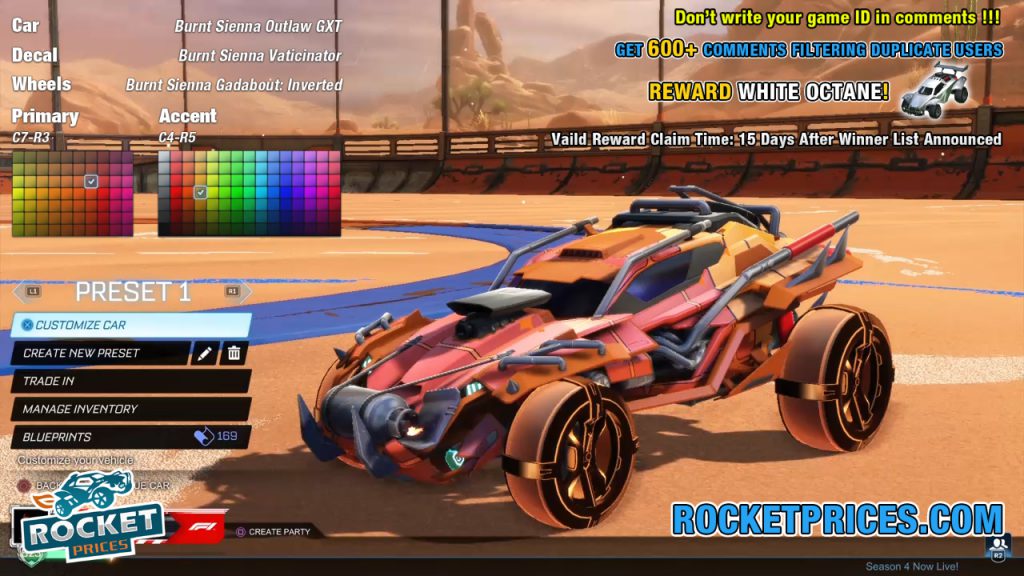 2 – Cobalt Outlaw GXT Design
Car: Cobalt Outlaw GXT
Decal: Cobalt Vaticinator
Wheels: Cobalt Gadabout: Inverted
Primary: C8-R4
Accent: C1-R1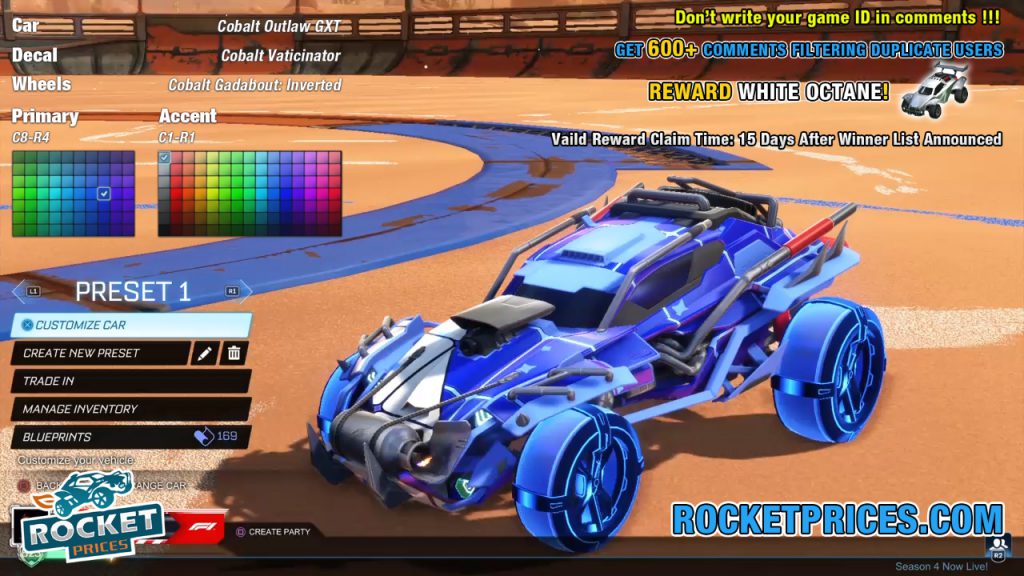 3 – Forest Green Outlaw GXT Design
Car: Forest Green Outlaw GXT
Decal: Forest Green Vaticinator
Wheels: Forest Green Gadabout: Inverted
Primary: C2-R4
Accent: C15-R3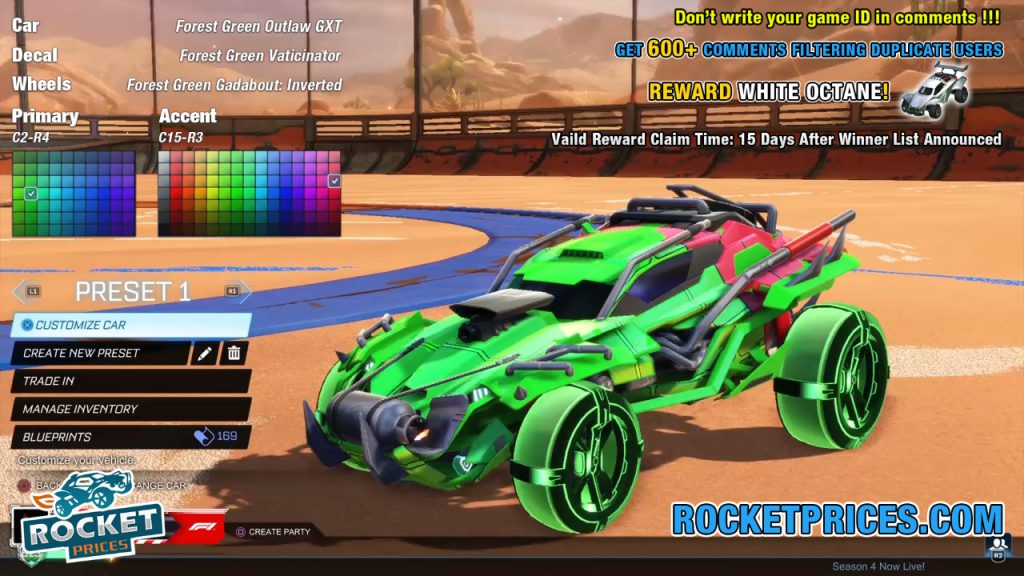 4 – Crimson Outlaw GXT Design
Car: Crimson Outlaw GXT
Decal: Crimson Vaticinator
Wheels: Crimson Gadabout: Inverted
Primary: C8-R4
Accent: C10-R1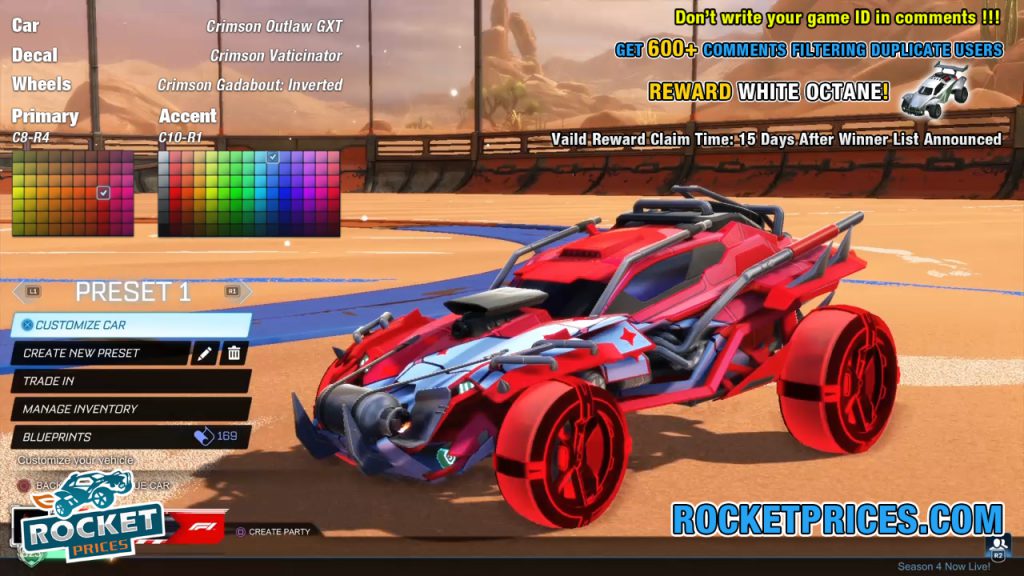 5 – Lime Outlaw GXT Design
Car: Lime Outlaw GXT
Decal: Lime Vaticinator
Wheels: Lime Gadabout: Inverted
Primary: C1-R4
Accent: C5-R4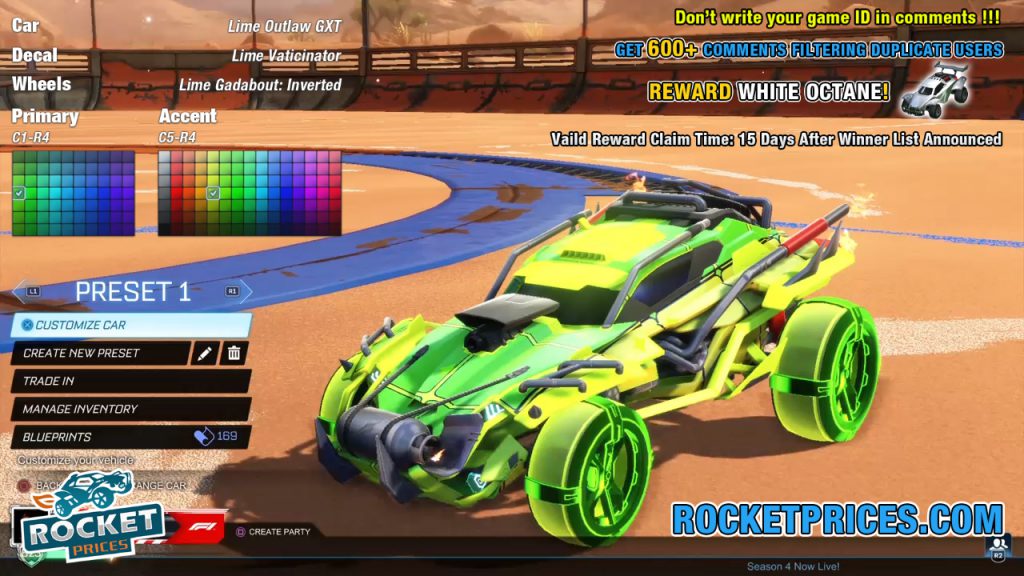 6 – Pink Outlaw GXT Design
Car: Pink Outlaw GXT
Decal: Pink Vaticinator
Wheels: Pink Gadabout: Inverted
Primary: C10-R4
Accent: C13-R1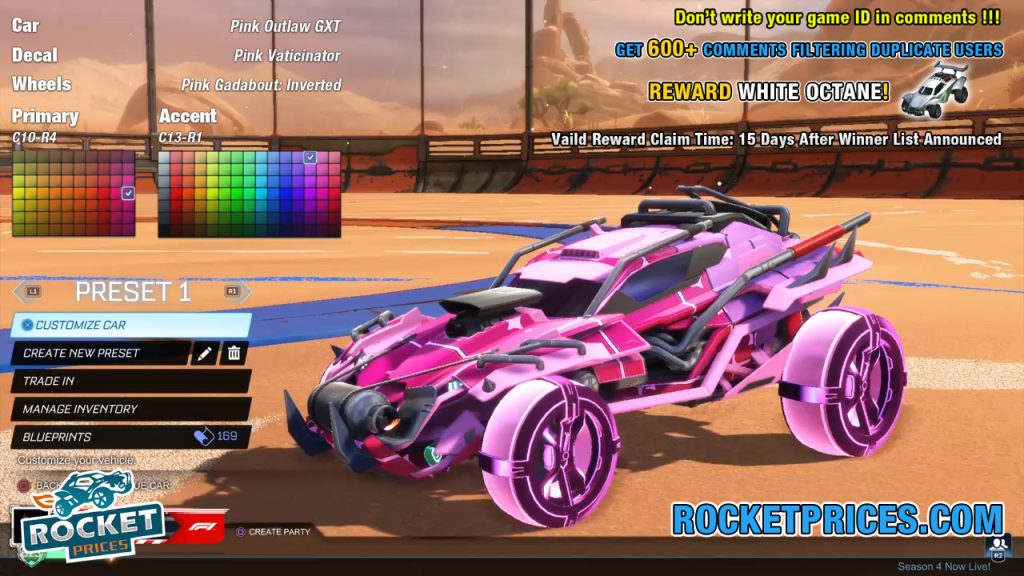 7 – Orange Outlaw GXT Design
Car: Orange Outlaw GXT
Decal: Orange Vaticinator
Wheels: Orange Gadabout: Inverted
Primary: C5-R4
Accent: C4-R3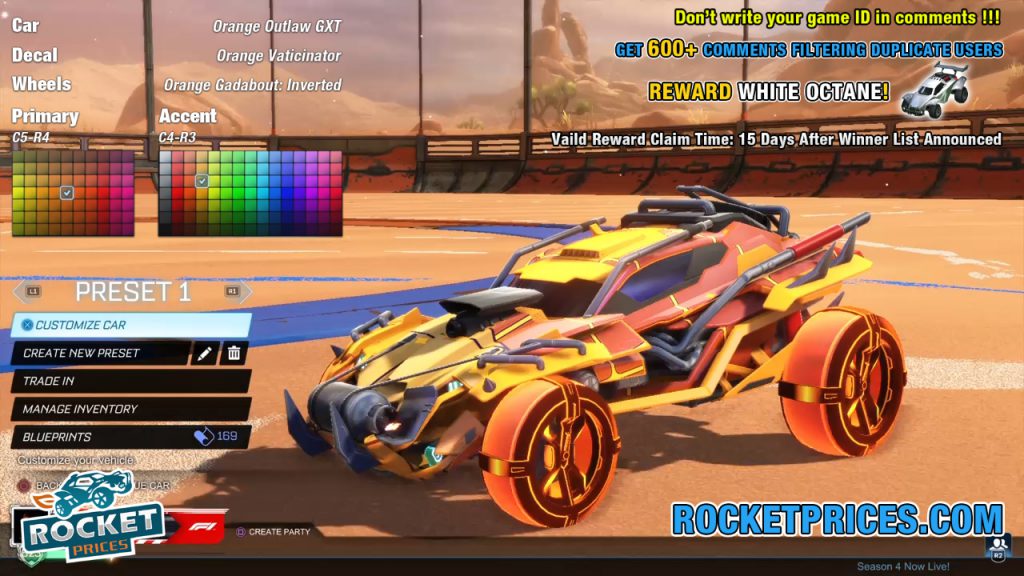 8 – Purple Outlaw GXT Design
Car: Purple Outlaw GXT
Decal: Purple Vaticinator
Wheels: Purple Gadabout: Inverted
Primary: C10-R3
Accent: C14-R3
9 – Sky Blue Outlaw GXT Design
Car: Sky Blue Outlaw GXT
Decal: Sky Blue Vaticinator
Wheels: Sky Blue Gadabout: Inverted
Primary: C4-R4
Accent: C10-R1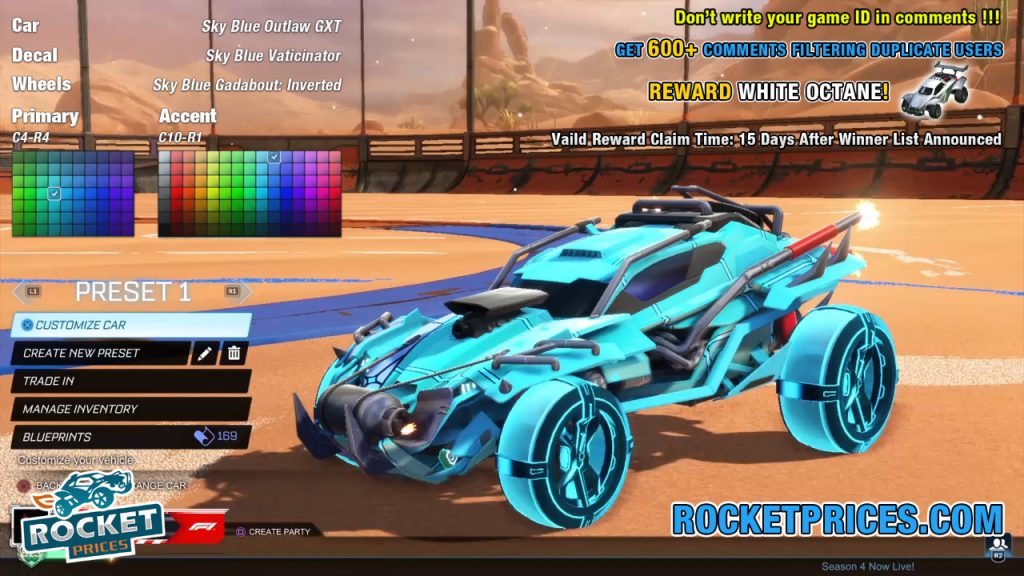 10 – Saffron Outlaw GXT Design
Car: Saffron Outlaw GXT
Decal: Saffron Vaticinator
Wheels: Saffron Gadabout: Inverted
Primary: C1-R5
Accent: C1-R3