It's time for our column of Rocket League Car Designs, here we are going to present the Best Centio Designs for you, also cover some information about the battle-car and the ways you can get it. Not wordy, let's get into today's topic now!
Top 10 Centio Designs with Mainframe Decals & Ruinator:Inverted Wheels
Centio, formerly called Centio V17 (until mid-to late-2020, around the time of the Free To Play update), is an import certifiable and paintable battle-car released on July 5, 2017, as part of the second anniversary update. Centio shares a similar hitbox with a few different cars including the Artemis, Batmobile, and Sentinel. The Centio resembles various LMP1 cars, coming with cool look, so you can free to get any amazing designs by putting any universal black market deals or exotic wheels on it.
How To Get Centio Car in Rocket League?
It could only be obtained from the Overdrive Crate before, while now it can be gotten from Item Shop with Rocket League credits in a random limited time.
You also can trade Centio with other friends or buy Rocket League items/credits from RocketPrices.Com, what's more, this reliable online RL trading store offers the below free methods for you to get painted Centio cars and car designs without spending any single penny:
If you do like the below designs, comes to join the Weekly Giveaway for VIP Member on the Reliable Rocket League Items Shop – Com
Join the Rocket League Giveaways to win free RL items every day, the below items are available now:
Now if you are still hesitating whether you should spend time and money to get this cool Centio battle-car, then you should take a look at these unparalleled designs,which will give you some great ideas for creating your own distinctive Centio battle car.
1 – Burnt Sienna Centio Design
Car: Burnt Sienna Centio
Decal: Burnt Sienna Mainframe
Wheels: Burnt Sienna Ruinator:Inverted
Primary: C7-R2
Accent: C4-R6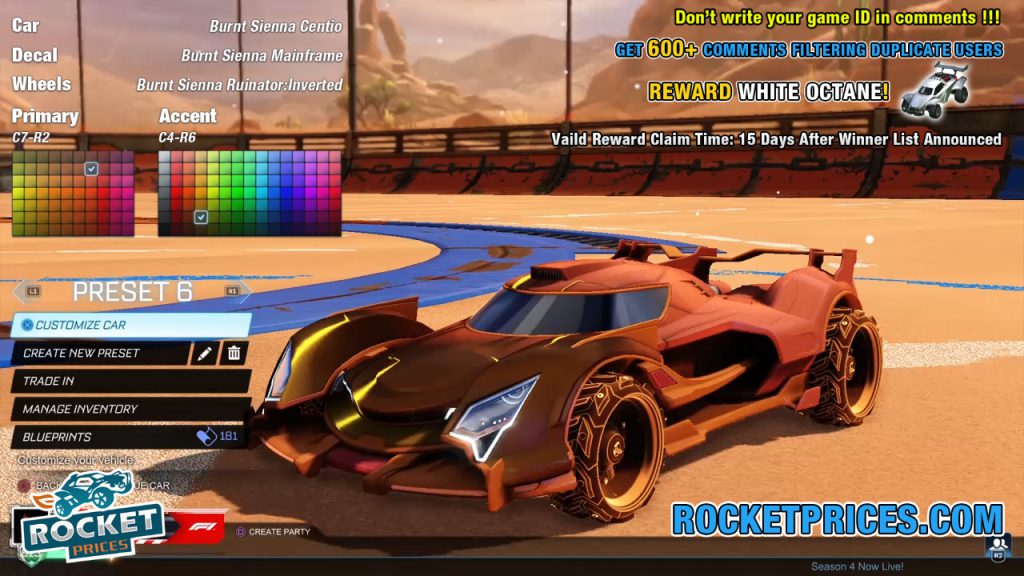 2 – Orange Centio Design
Car: Orange Centio
Decal: Orange Mainframe
Wheels: Orange Ruinator:Inverted
Primary: C7-R4
Accent: C4-R5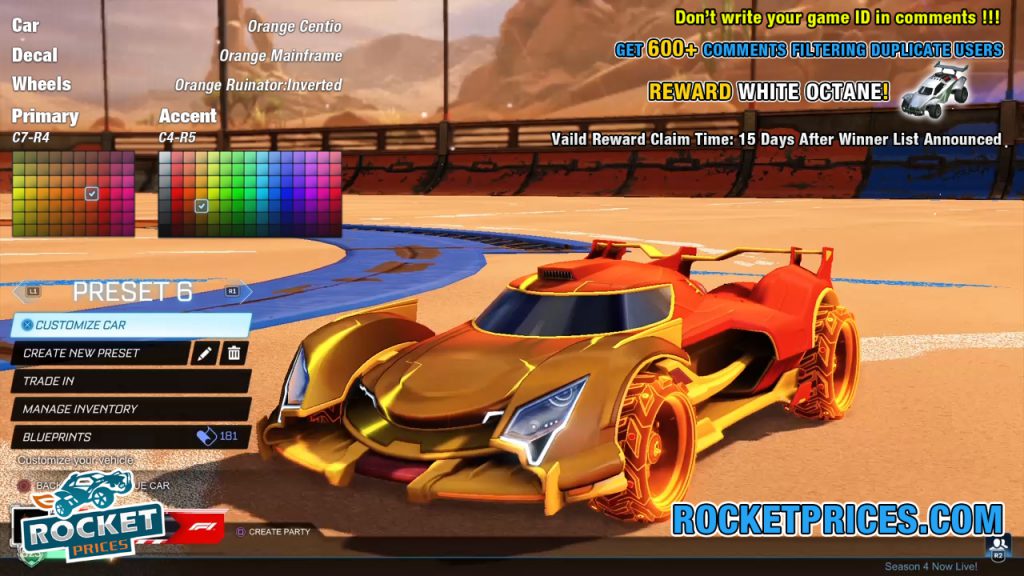 3 – Forest Green Centio Design
Car: Forest Green Centio
Decal: Forest Green Mainframe
Wheels: Forest Green Ruinator:Inverted
Primary: C2-R7
Accent: C13-R4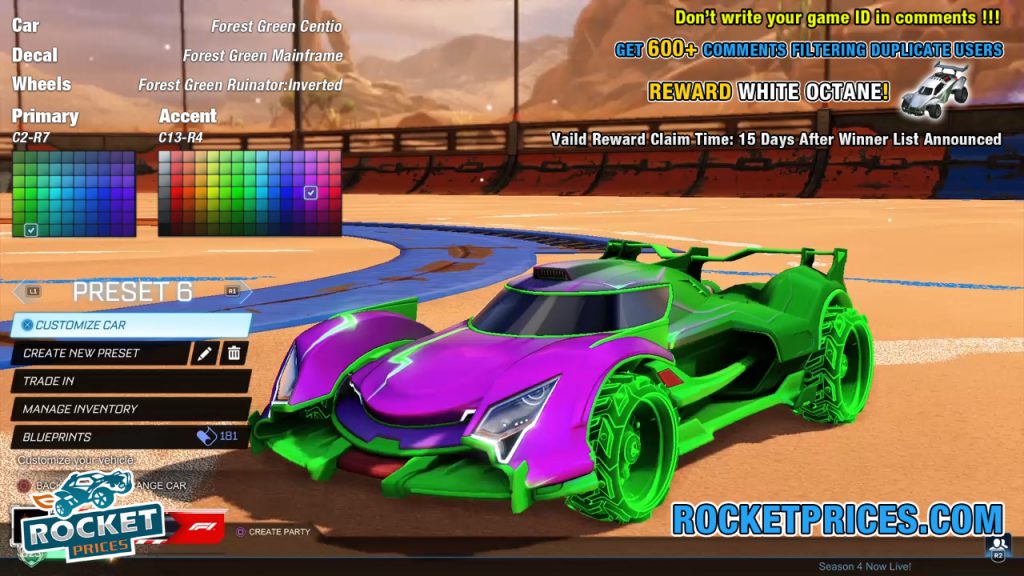 4 – Lime Centio Design
Car: Lime Centio
Decal: Lime Mainframe
Wheels: Lime Ruinator:Inverted
Primary: C1-R4
Accent: C5-R5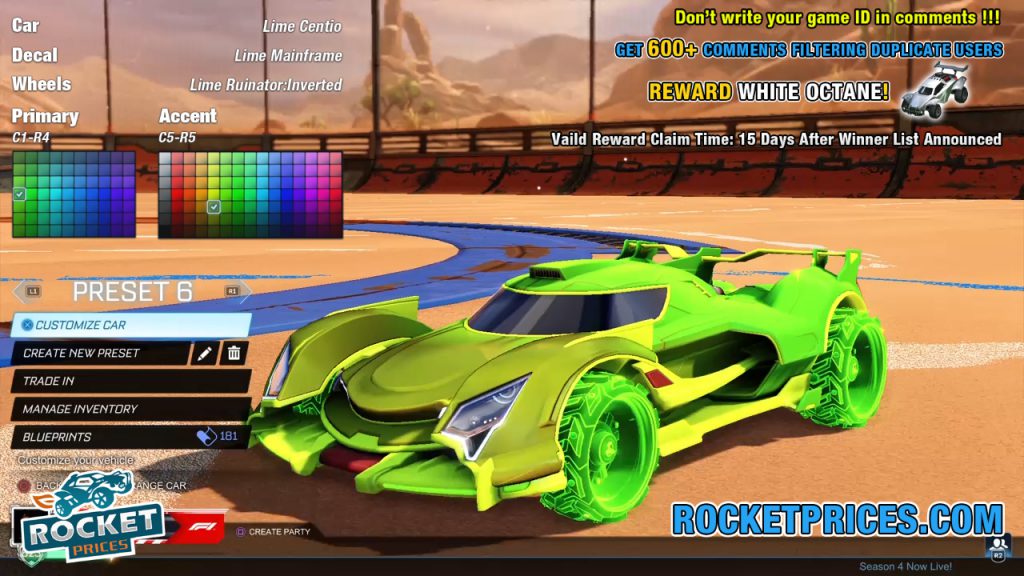 5 – Pink Centio Design
Car: Pink Centio
Decal: Pink Mainframe
Wheels: Pink Ruinator:Inverted
Primary: C10-R4
Accent: C14-R1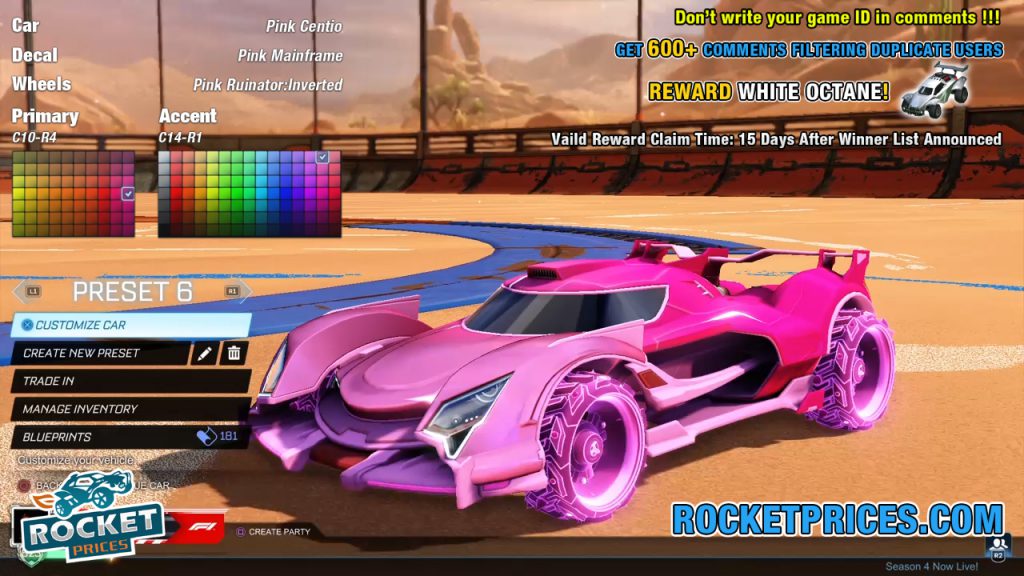 6 – Purple Centio Design
Car: Purple Centio
Decal: Purple Mainframe
Wheels: Purple Ruinator:Inverted
Primary: C10-R1
Accent: C4-R4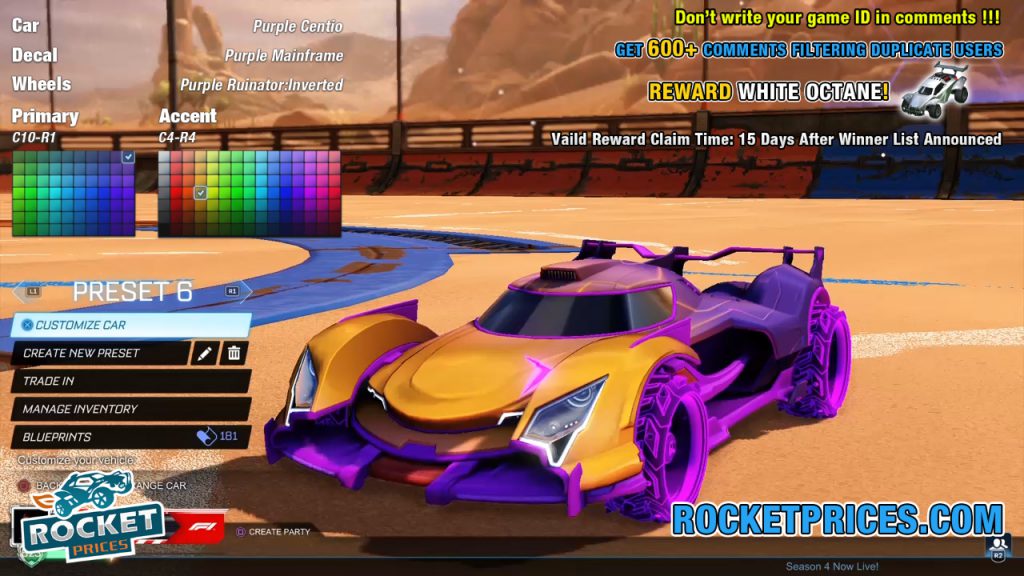 7 – Sky Blue Centio Design
Car: Sky Blue Centio
Decal: Sky Blue Mainframe
Wheels: Sky Blue Ruinator:Inverted
Primary: C4-R6
Accent: C9-R7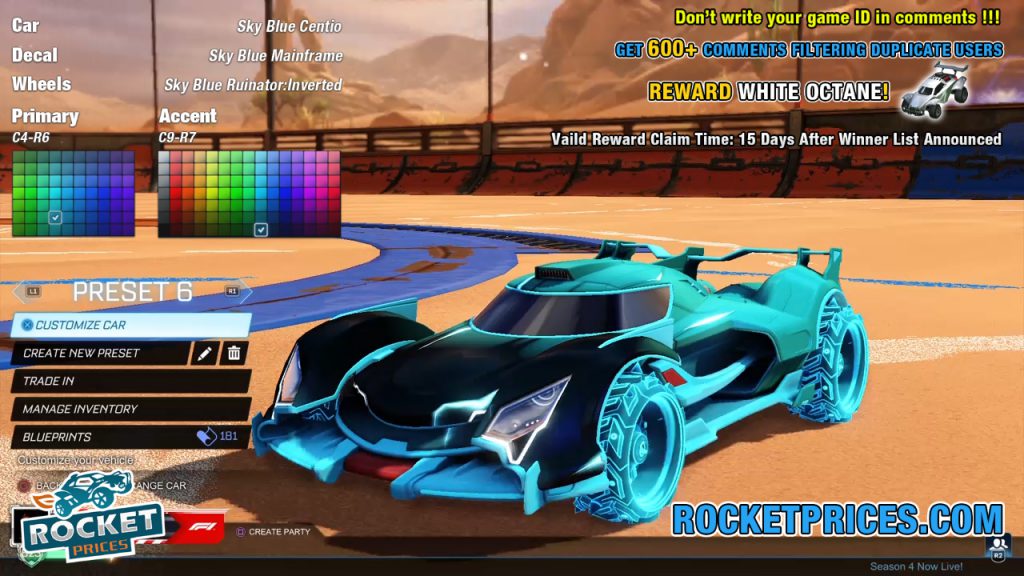 8 – Cobalt Centio Design
Car: Cobalt Centio
Decal: Cobalt Mainframe
Wheels: Cobalt Ruinator:Inverted
Primary: C8-R4
Accent: C2-R4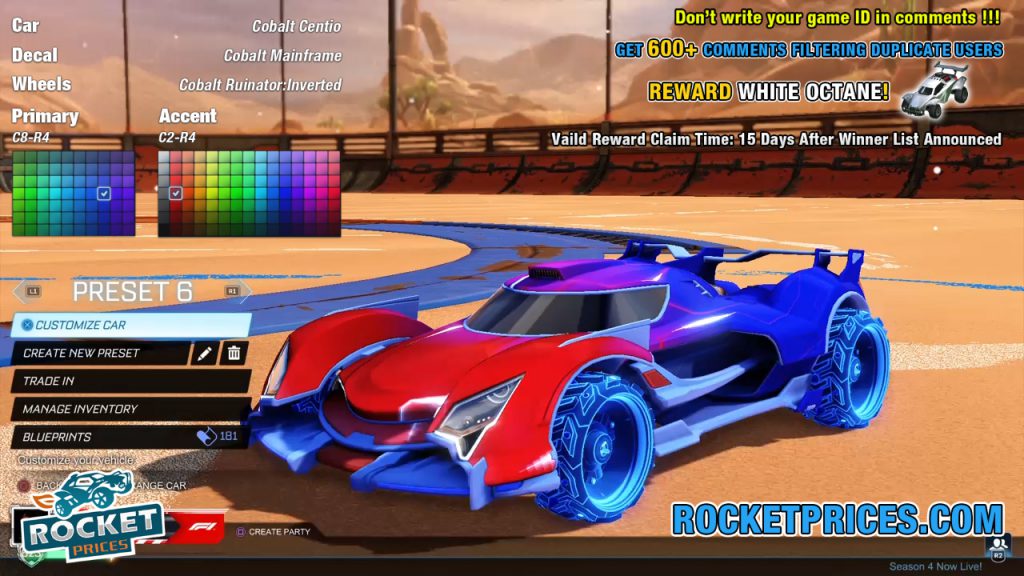 9 – Grey Centio Design
Car: Grey Centio
Decal: Mainframe
Wheels: Grey Ruinator:Inverted
Primary: C4-R2
Accent: C1-R3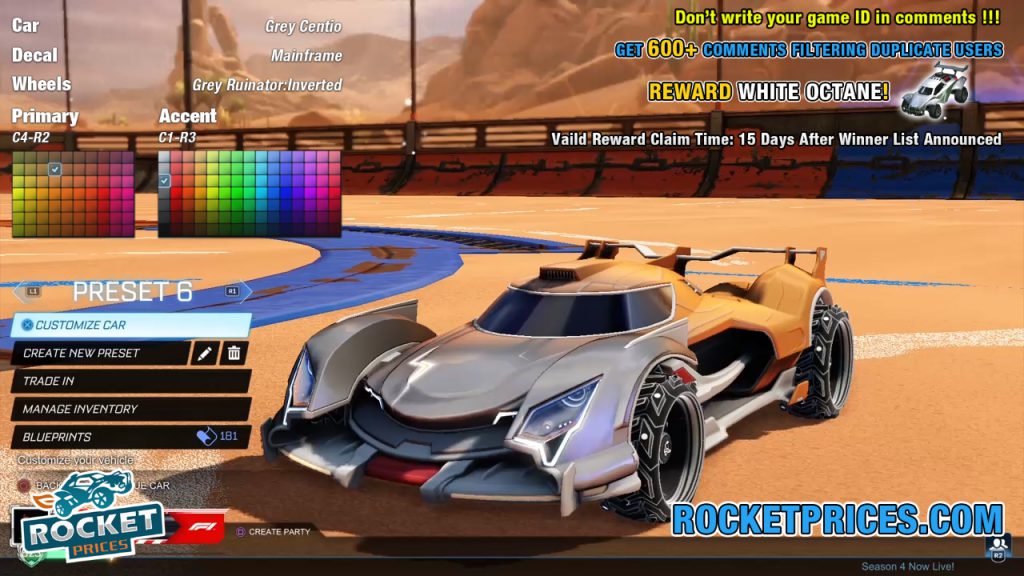 10 – Crimson Centio Design
Car: Crimson Centio
Decal: Crimson Mainframe
Wheels: Crimson Ruinator:Inverted
Primary: C8-R7
Accent: C6-R4